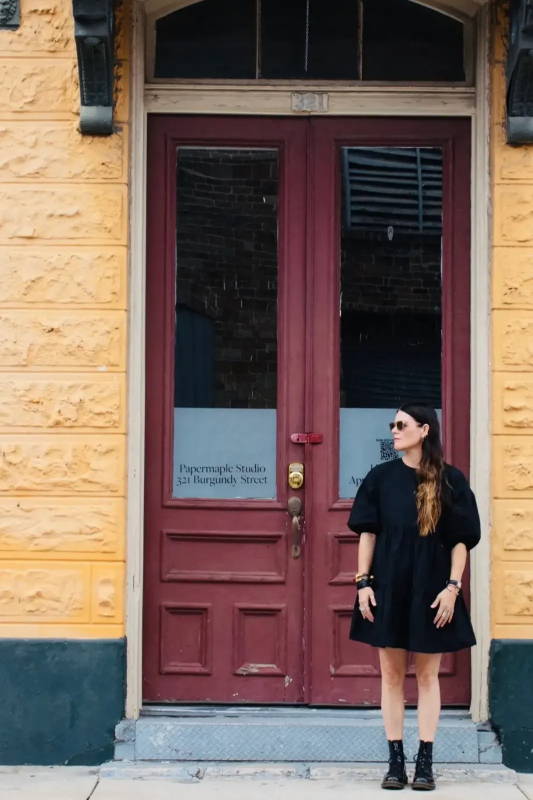 PAPERMAPLE STUDIO'S PHILOSOPHY
When I first began taking sewing lessons, I would usually leave a class feeling panicked and more confused than when I began - things always felt rushed with so many students packed in, and a very strict schedule to follow.  
Skills take time to learn, to understand and process, and as a visual learner and slow sewer, I appreciate this more than most.
I wanted to create a very different learning environment, where there was time to not only fully understand the lessons, but also the freedom to ask questions and try out new techniques. 
At Papermaple Studio, we don't follow strict lesson plans. We do have a schedule, but the goal is to maximize learning by teaching outside of the lines and working with each student in a more personal setting, at their own pace.  The studio also functions as a working atelier where students are not only able to see Custom Couture being made to order by me but understand the process and techniques behind it, if they are interested.
My aim for the studio is to offer a wide variety of affordable lessons that teach skills ranging from absolute beginner to couture, encourage sustainability and refashion, and host respected sewing teachers from all over the globe. 
Workshops include week-long immersives from visiting teachers as well as slow fashion sewing, and, of course, Mardi Gras and NOLA themed events such as headpiece and costume design.
We are also working on offering mentorships every year with free tutelage and additional fabric and notion costs donated by local businesses.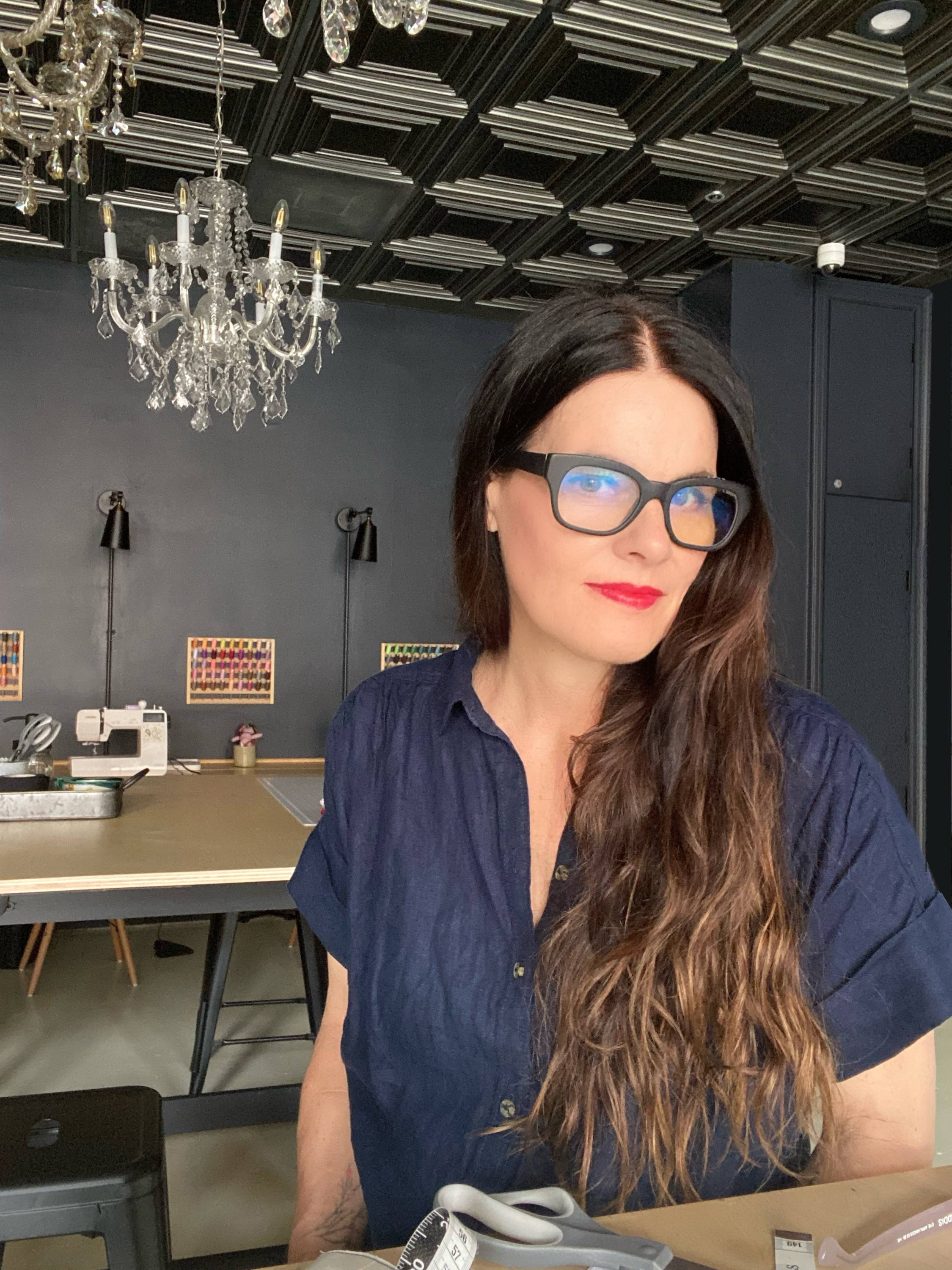 Hello!
Welcome to Papermaple, a studio that has been a decade in the making.  
I'm English, but have called the States home for the last twenty five years. 
Four years ago, I moved from the East Coast, to live in New Orleans, and open what is now Papermaple Studio and Atelier.
I've been sewing for decades, and have studied with some extraordinary experts over the years both in Paris, London and New York. Notable teachers include Julien Cristofoli, Azzedine Alaia's Paris-based master draper and pattern maker and Madame Pico, draper for Couture houses Balmain, Madame Grès and Nina Ricci.  
My fascination with the Grès Couture house and time spent with Madame Picco have led to many hundreds of hours in the studio exploring their original pleating designs.
This has led to some wonderful client collaborations, where I have been able to include elements of their traditional pleating in a new and reimagined way.
Alexander McQueen, Jean Paul Gualtier, Vivienne Westwood and Rick Owen are constant inspirations in my sewing life, and designers I admire greatly.
A CHALLENGING SEW
When sewing for Private Clients, I like to push the technical boundaries of what is expected with a fabric and what can be achieved with a design - the structures and foundations you don't see, especially in Couture, which historically have always been kept more secretive.  
This knowledge led me to start a blog called A Challenging Sew in 2011, so I could share some of the intricacies at a more advanced level.   Millions of views later, it still remains incredibly popular, averaging twenty thousand plus page hits a month.
FROM ABSOLUTE BEGINNER TO ADVANCED
When you sign up for a class at the studio, unless otherwise noted, I will be teaching - every class from absolute beginner to advanced.
Guest teachers are always welcome, and I am actively trying to have one new workshop a month, that incorporates something specific and different to general sewing - Jeans, Bra's, Pants fitting etc
I'm a visual sewer- I like to make samples, to practice and understand each stage thoroughly- and I teach the same way. We are going to take a slow, collaborative and methodical approach with no more than six to each class, to ensure lots of one on one time.
I hope you will come and join me. 
Leisa
In its simplest form, I wanted to create an entire experience, an experience I wished that I'd had when I first started to sew:
To offer classes in a beautiful studio, well-stocked with fundamentals such as fabric, notions, dress forms, pressing equipment and supplies, and then to fill it with passionate, like-minded sewers supporting and inspiring each other.
To offer slower classes, with fewer students, where teachers are able to take the time to explain a specific technique or skill as often as necessary.
To offer classes, where a selection of curated, high quality fabric are provided for you to learn with, where the pattern is printed and yours to keep, where muslins have been made for you to try on,  a class where you can make a garment you will be proud of, in a fabric that will last and you will love to wear for years to come.
To make classes affordable, and accessible for everyone, by offering mentorships, and locals' discounts, by keeping hourly rates low and offering independent studio time. 
We can't wait to welcome you!
Papermaple Studio is located on a quiet street in the historic French Quarter of New Orleans.
Tucked away in an 1900's building minutes from Canal Street, this 2200 square foot, two roomed studio, with high ceilings, and large windows makes for the perfect backdrop to a collaborate and inspiring class or workshop.
What resources does the studio have?
Designed specifically for the sewer, each room can comfortably seat 8-10.
Both classrooms have two large, rolling, counter height cutting and crafting tables, dedicated sewing stations, all the latest pressing and ironing tools, brand new Janome and Brother machines and sergers, drafting and draping equipment and a large selection of dress forms.
The studio also functions daily as a working atelier for client commissions, so it is stocked with couture fabrics, notions and trims not normally found in a teaching environment, giving insight and resources for anyone interested in pursuing a fashion career.
The studio carries muslin, cotton, organza and charmeuse in basic colors as well as a limited selection of notions, but we would highly recommend a visit to our incredible local fabric store, Promenade Fabrics on St. Charles in the Lower Garden District, for any specific or special purchases.
Our teaching staff is fully vaccinated but to ensure everyone's safety, we require both our staff and students to wear masks that cover both mouth and nose while in the building unless the entire class is vaccinated and agrees to forgo the masks by mutual consent.
We have also expanded our studio from 900 sq ft to 2200 sq ft to allow for social distancing, and have installed Molekule Air Pro's and Molekule mini's which will be running throughout classes.