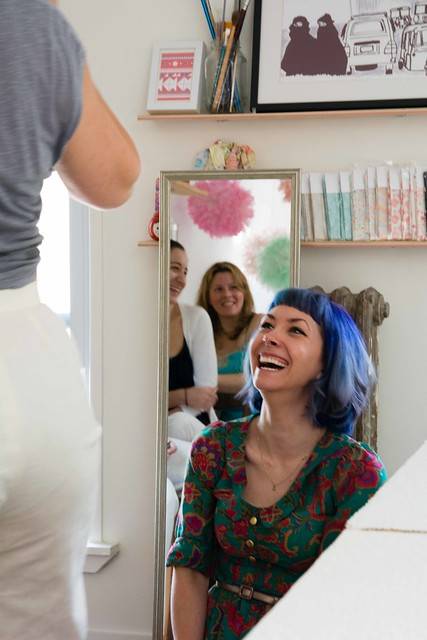 Papermaple Studio Proudly Hosts: Lauren Taylor of Lladybird

We can't wait to welcome Lauren to the studio on March 3-5th 2023 AND October 13th-15th 2023 for two amazing Jeans workshops!
$625.00 (starting at $54/mo with Affirm)
Each workshop includes 18 hours of instruction over 2 1/2 days, a jeans kit with all your supplies and lunch on Saturday and Sunday.
Students will learn using one of the following patterns - the Ginger Jeans (0-20), Ames Jean (12-32), Quadra Jeans (26-50) or the Fulford Jeans Pattern (26-50).
Lauren will be teaching you everything that you need to know to make a professional looking pair of jeans - from choosing the correct size, performing minor pattern alterations, and basic fitting adjustments, tips for accurate topstitching, serged seam finishes, an easy fly-front zipper, and installing all that fun hardware!
We will kick off the weekend with a half day on Friday so that you can choose your size (samples are available of the Ginger Jeans so you can try them on) before we cut and mark your denim.
Construction will begin on Saturday and continue through the weekend. You will not only leave with a new pair of jeans, but also the knowledge and empowerment to make more on your own!
Prior sewing experience is required to take this class. You must be comfortable threading and operating a sewing machine, and have sewn at least one garment pattern.
This class is best suited for intermediate seamstresses or adventurous beginners with a little experience under their belt.
The studio is fully equipped with Janome sewing machines and sergers, as well as a PDF pattern printer, and carries a comprehensive supply of basic supplies, irons, pressing tools and notions for use while attending a class.
Of course, you are welcome to bring your own machine if you prefer, please don't forget to pack all your feet accessories and some extra bobbins!
FAQ's? - Most of your questions can be answered in Laurens blog post here
Or email Lauren direct at lladybirdlauren@gmail.com