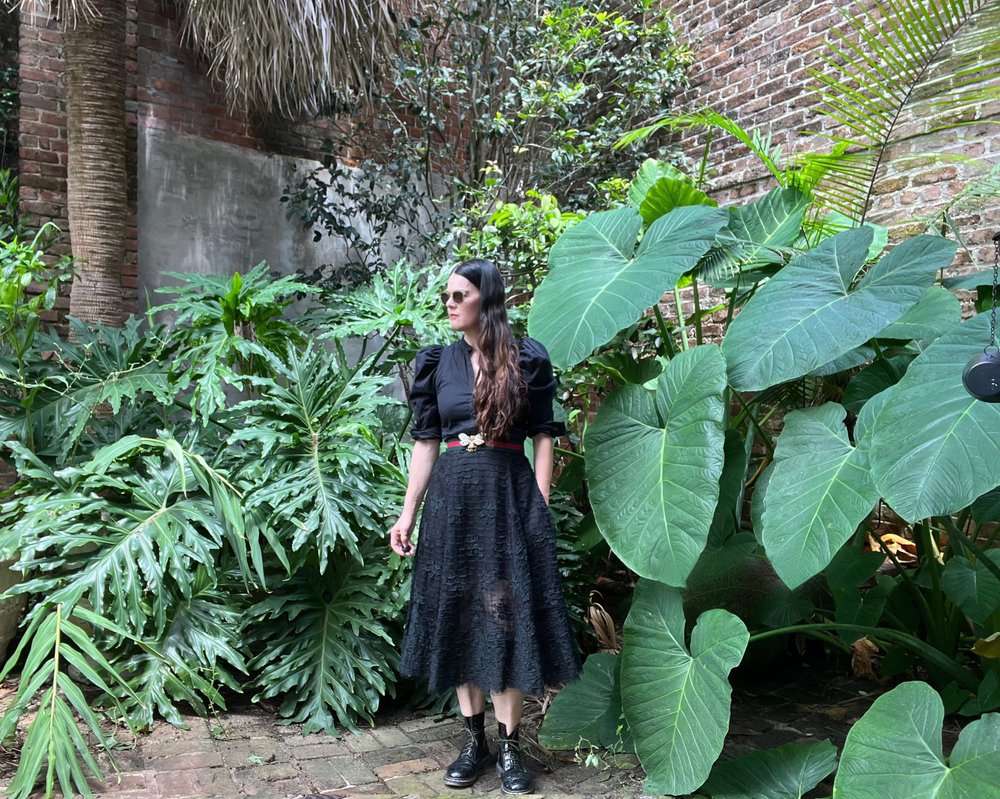 Five years to be precise and I am genuinely shocked that it's been so long.
Custom client orders, an empty nest, a big move to New Orleans, an eighteen month dream come true studio project, two Covid shutdowns and a hurricane take time and energy I guess, but I've missed this outlet and the connection with other sewers, so hey, hi, hello y'all, how is everyone?!
Life has finally slowed down, the studio is up and running, and I have just set the schedules, made the muslins, and prepped classes for the next six months (along with some other fun things coming soon!), so I have some spare time to start sharing a backlog of personal garments that I have made over the last few years.
To date, this skirt is my most worn lace make. Over the years, I have become better at sewing more wearable clothes when adding to my closet, and this is one of those items that I can dress up and down throughout the day.
The lace is from Sophie Hallett and was bought directly from their workshop in Paris a few years ago when I visited, but without a project in mind. It is always difficult to use these unique fabrics, wanting to honor the time and skill involved in producing such an extraordinary lace while hoping that I won't screw it up along the way!
This 35" wide black lightweight and delicate Chantilly lace was commissioned by one of the Haute Couture houses for their Spring Collection that year and had to be bought as a 5-yard piece. It has a very large floral design, one-inch grids, scallops on one selvage, and clusters of flowers. Overall, a very complicated and technically challenging fabric to pattern with.
Because I had to play placement Tetris, it was easier to work within the confines of the yardage from the very beginning. While five yards sounds like a lot, the narrow width limits what can be made.
I began by draping five yards of silk organza cut to 35" to create a skirt pattern, trying to add as many panels as possible to give it fullness and length. When I had a skirt design I was happy with, I thread traced the stitch lines in white so they could be seen through the lace.
The Chantilly is so lightweight that it had to be underlined for stability, so I then "fused" the organza pattern and lace together by hand around the edges to create a single fabric.
The lace had a nice straight design on the selvedge and the skirt a classic tea length curved hem. To keep the integrity of the scallop design intact, I opened up the side seams and cut out the scallop to remove the bottom of each entire panel.
The lace was so light and malleable that I did not need to cut into the scallops much as I worked it to fit.
I laid the cut section onto the negative space of the skirt panel and played around until the overhang on the hemline was consistant, before hand stitching the loose sections down from the rightside of the garment using the dense laced areas to hide the stitches.
I also added organza pockets, using two layers, one cut on grain and one on cross for strength. They have been consistently hokding my phone and keys and show no signs of strain or wear.
The back is closed with a simple hand-picked zipper and a hook and eye.
To further show off the lace, I added a half slip lining made of silk charmeuse so the lace design can be seen when worn and quickly hemmed with lace tape to reduce any bulk when worn.
I was actually wearing my skirt to work yesterday, and took some pics with my new puppy, breed unknown, size potentially enormous (he is only four months old) the sweetest, happiest and most loving pound rescue / rock star - I've called him David Bowie ….. Bowie for short, and he has been loving his short visits to meet everyone.
My two Frenchies are really not amused.
So that's it for this week, it feels good to be back, and in theory, this will now be a weekly Monday blog again - that's the plan anyway!
It will be a mix of my personal garments, interesting student makes and private client work when I can share - there will be lots going on!!
Have a great week everyone!
Leisa x